About CleanSearch®
Online since 1999, CleanSearch has been studying and effecting search engine algorithms for decades. We possess the knowledge, applications, resources and infrastructure that most firms cannot match. CleanSearch is the industry leader in Search Engine Relevance Management & Search Engine Reputation Management. We can hide, obfuscate, edit, or remove unwanted internet content, by eliminating the related listings which appear in close proximity to your name.
While most firms are still confusing you with consoles, forms and instructions. CleanSearch® attacks your issue with urgency and aggression to eliminate the listings destroying your reputation. CleanSearch® is driven to protect your name-search, stopping and reversing monetary and social losses. We provide our clients with a productive clean atmosphere in which maintain your reputation on the world wide web. We solve your issue in the shortest time-frame possible, offering simple straight forward pricing.

From our not-so-humble beginnings on the World Wide Web, "Search Engine Warrior" was the original "Reverse SEO" firm, and was launched to provide aggressive SEO solutions for consumers finding unwanted content in Google results. CleanSearch was launched to a world unaware of the need for reverse SEO. It wouldn't be long until the world caught up.
CleanSearch facilities are operating several online marketing services which help provide infrastructure for the proprietary applications utilized in our CleanSearch projects.
With over 10,000 satisfied clients and over 100,000 pages removed or buried, CleanSearch is poised to be the Reputation Firm of the 20's. We love helping people! Free Private Consultation 800.544.7145!
Our proprietary REPUTATION process is registered VIA the United States Patent and Trademark Office. We have formulated a methodology designed to eliminate the occurrence of unwanted search engine results.
Our goal is to convince the search engines that there is much more relevant content associated with your name search than what is currently being displayed.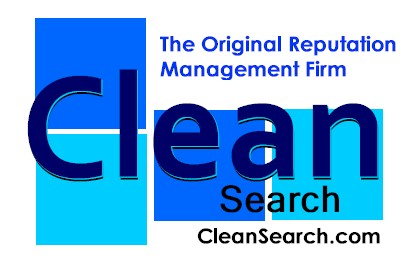 CleanSearch® is driven to protect your name, stopping and reversing monetary and strategic losses. We provide our clients with a productive clean atmosphere in which to reside, work and prosper on the world wide web. We solve your issue in the shortest time-frame possible.
We offer much more than a series of tasks created on your behalf. We handle 100% of the content, processes and work involved in executing a successful campaign. You probably already have a Twitter, Facebook, Linkedin, Instagram and Grithub. We do not include these accounts as any of our project content, but will help create these profiles at no additional fee, for best results, if you do not have them.
As you know, negative content which is accessible to the public via search engines, can make or break a reputation. Especially when your career or business is jeopardized. This type of negative publicity can proliferate and become permanently associated with you. This is undoubtedly costing your business or deteriorating your social status and in some cases your livelihood. 

CleanSearch® represents you as an attorney or agent would, personalizing a successful strategy to immediately clean-up the search results related to your name or business.
Interested parties, disgruntled patrons, patients, employees and clients, can find and exploit your negative listings, making an already bad situation worse. Personal grievances can spiral out of control with horrendous consequences.

We have executed campaigns-to-success beyond what other reputation firms have ever conceived possible. The complexity of a successful case can wind through a vast network of internet and social facilities, CleanSearch® has the infrastructure and expertise to succeed.
We have experience with every conceivable facet of online reputation management, including investigations, leveraging or whatever needed to empower our clientele to achieve success.
Our results are PERMANENT and RULE COMPLIANT as accepted by Google.com and other major search utilities, giving our results stability and longevity in perpetuity.
Multiple Proprietary Techniques Provide:

Strong Infrastructure
Proven Longevity
Time Tested Results
Algorithmic Based Structure
Free, Confidential Consultation 800.544.7145.
.